Jonestown Parks & Recreation
---
Contact Information
Recreation Coordinator - Ann DaPrato
Public Works Director - James McCrory
Administrative Assistant - Laura Arnold
---
Jones Brothers Park
10301 Lakeside Drive - Open Sunrise to 10:00pm - PARK MAP
This beautiful park located on Lake Travis is a perfect location for events in Jonestown. Have your next family gathering, reunions, birthday party or picnic here. With access to Lake Travis, enjoy boating, swimming, fishing and more.
Reservations
Park facilities are available on a first come first serve basis unless they are reserved. Tp help make your park experience pleasant for yourself and others, please read and follow our PARK RULES.
Boat Launch Information
Jones Brothers Park has three public boat ramps for launching (water level permitting).
Boat Ramp Status
Boat Ramp No.1 - Closed

Boat Ramp No.2 - Closed

Boat Ramp No.3 - Closed

Know Before You Go!
---
Park Pass / Boat Launch Pass - Jones Brothers Park Access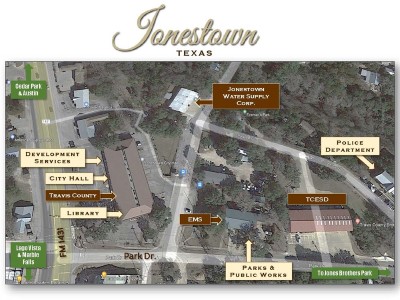 City of Jonestown Residents
$50.00 Annual Pass available to residents only.
Link to Boat Launch Permit Application.
Stickers available at the Parks & Recreation Office.
Credit, debit and checks accepted. No cash accepted at Parks Offices.
Non-Residents
Non-Resident Parking Permits
$20.00 per vehicle per day.
Parking permit can be purchased at the park entry gates.
Credit and debit cards accepted at gate.
Non-Resident Boat Launch Pass
$20.00 per boat per day, includes tow vehicle.
Launch fee is paid onsite, at gate, and covers tow vehicle and trailer parking.
Credit and debit cards accepted at gate.
---
Soaring Swifts by Jim Lapaso
A kinetic sculpture installed in Jones Brothers Park on February 3, 2016.
You can find this unique moving artwork next to Boat Ramp #1. Be sure to stop by and enjoy it when you visit Jones Brothers Park! (sculpture funded by proceeds from Lakeside Challenge 5K Run)
Jones Brothers Park, Beautiful May Day
Lake Travis Level 654.60' May 22, 2022
---
Veterans Memorial Park
Dedicated to the Men & Women Who Have Served Our Country
A reflective memorial features a bronze statue of a young soldier entitled "Going Home" sculpted by Jonestown resident Jim Thomas. This soldier, who has served his country, waits in anticipation of his ride to return home to his loved ones.
Along with the memorial, this park also features a beautiful picnic area under the canopy of stately oak trees.
Veteran's Memorial Park, Preparing Park for J-Town Street Fair
September 14, 2022
Veteran's Memorial Park. Shelby Thomas was the model for the statue, "Coming Home" and he and his father, Jim Thomas worked together to craft the beautiful work of art. Sadly, Shelby recently passed. When the local VFW closed its doors they used their remaining money to hire Jim Thomas, renowned sculptor who lives in Jonestown to do the sculpture.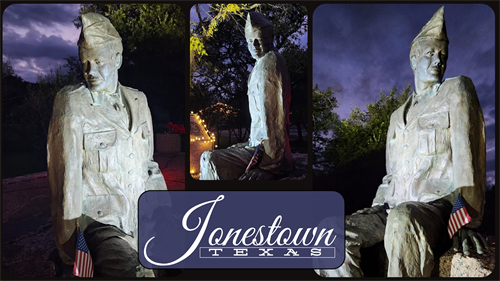 ---
Fireman's Park
18314 N. Park Drive (corner of Crestview and North Park) Small park that offers:
Plenty of shade
Ten picnic tables
Wood burning smoker
Electricity is available in the smoker area only
Originally the park was created and built by the Jonestown Volunteer Fire Department and was the scene for their annual Labor Day Bar-B-Q fund raiser.
After acquiring the park, Jonestown has improved it and added a connection to Jones Brothers Park through the Canyonlands Trail.
There is a pet waste station at the entrance of the Canyonlands Trail in Fireman's Park.
Fireman's Park, Halloween 2022
Trunk or Treat
Saturday, October 29, 2022
Fireman's Park, Free Friday Night Flicks
Friday, June 3, 2022
---
Shady Park
Shady Park is one of Jonestown's hidden gems, featuring
a grove of majestic oak trees
accessible from FM 1431 and from Crestview Dr. at Fireman's Park.
Crushed granite walking path meanders through the park, over a rustic wood bridge, that leads through Fireman's Park and into the Canyonlands Trail.
five picnic tables
BBQ pit
water fountain
two gorgeous crafted wooden benches to relax in under the the dappled shade
Shady Park
January 13, 2023
Shady Park
October 26, 2022
Shady Park Water Fountain Install
---
Pecan Park
Pecan Park is loved for its grove of mature Pecan trees next to the lovely wet-weather Big Sandy Creek.
Picnic tables and BBQ pit are available for leisure.
Pecan Park, Big Sandy Creek Flowing After Heavy Rains
May 25th, 2022
---
Canyonlands Trail
Canyonlands Trail can be accessed from Fireman's Park via stairs, this part of the trail is near the wet-weather waterfall.
Canyonlands Trail can also be accessed from Jones Brothers Park by Boat Ramp No.1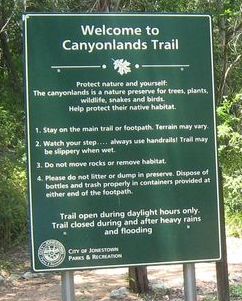 Canyonlands Trail, Walk Through Near Jones Brothers Park
November 1, 2022
Canyonlands Trail, Walk Through
August 16, 2022
---
Video Tours
Jones Brothers Park