City of Jonestown Public Works
City of Jonestown Public Works Department is responsible for maintenance of:
Implementation of City's Capital Improvement Projects
Installation and removal of the City's Holiday Decorations
City Facility Maintenance
City-owned Equipment (including light & heavy duty trucks, road working equipment & small engine equipment)
Streets
Ditches
Drainage
Traffic Signs
Street Markings
Right-of-way Mowing
City-owned Trees
City-owned Sidewalks
City-owned Parking Lots
Park Lands
Wastewater Facilities
In addition to maintenance, the department implements the city's capital improvement projects and is responsible for the installation and removal of the city's holiday decorations.
Invitation for Bids
Aerial Lift Bucket Truck advertisement and Invitation for Bids
1st publication date: Thursday, June 8, 2023
2nd publication date: Thursday, June 15, 2023
Bid opening date: Tuesday, June 27, 2023
Hours: 8:00am-5:00pm, Monday-Friday (Closed on City Holidays)
Contact Information
General Inquiries
Public Works Director - James McCrory
Assistant Public Works Director - Cole Johnson
Administrative Assistant - Laura Arnold
---
Wastewater Service and Billing
The City of Jonestown currently provides wastewater service to properties in The Hollows only. If you wish to start service, please complete an Application for Wastewater Service and submit to the Utility office at the address below.
Bills are sent out monthly on the 1st and due by the 25th. Payments can be made in person, by mail, or online with credit card, electronic check or electronic fund transfer. Credit card and online payments will incur a small service charge.
Pay my Wastewater (SEWER) bill online - Note This is NOT for your Water Bill. Water is provided by Jonestown Water Supply Corporation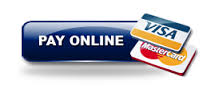 Mailing Address:
City of Jonestown, Attn: Utility Billing, 18649 FM 1431, Suite 4A, Jonestown, TX, 78645
Questions: Contact Rose at 512-267-3243 (option5), or rfearon@jonestowntx.gov
---
Winter Weather Resources
TDEM January 2023 Winter Weather Disaster Overview, Texas Department of Emergency Management
Individual and Family Resources
Report Damage
Affected Texans are encouraged to report property damage. Share pertinent details and photos to assist emergency management officials in the preliminary damage assessment process.
Texas Emergency Management Council State Agencies & Partners Resources
Local Resources
---
Projects Underway
January 2023 Winter Weather Cleanup
Downed Tree Limbs, Three Disposal Options
Any fallen trees on private property are the responsibility of the property owner.
In an effort to assist in-city residents with disposal of fallen tree limbs on private property, the City of Jonestown is providing the following disposal options.
This service is for City of Jonestown residents only.
Public Works Department consists of two crews who are still addressing storm damage, please be advised we will pickup from curb as soon as possible.
OPTION No.1 - CLOSING SOON, LAST DAY MARCH 31, 2023, Drop-Off at Boat Ramp 2 in Jones Brothers Park
ONLY CITY OF JONESTOWN RESIDENTS may bring their storm related brush to Boat Ramp 2 at Jones Brothers Park

Daily from 8:00am to 4:00pm.

Contractors working on behalf of Jonestown Residents must bring a copy of the resident's utility bill and/or resident's contact details for verification.

Jones Brothers Park 10301 Lakeside Dr. Jonestown, TX 78645
OPTION No.2
Curbside Pickup: Curbside Brush Collection is Still Ongoing
City of Jonestown Residents may place their brush in the ROW by the road and it will be picked up as time allows.
When placing brush out for pickup, please place the limbs parallel to the road, this makes it easier for our equipment to pickup.
Storm brush debris only, no trash allowed.
Your curbside is the area between your side's property line and near but not on the paved street; do not use neighboring properties without permission. If you live on a hard-to-get-to street, make arrangements with someone closer and notify the City.
Contact the Public Works Department with questions, PublicWorks@jonestowntx.gov 737-236-9925
OPTION No.3
Regular Trash Pickup for Smaller, Bundled Limbs
Throughout the year, Waste Connections will also pick up bundled brush with regular trash service.
Cut brush into 4-foot portions for easy curbside pickup and place next to your waste container on your normal pickup day.
Cut smaller branches into chunks to fit inside your yard waste container.
2023 Curbside Cleanup Day
ITEMS MUST BE CURBSIDE BY 7:00AM, JUNE 24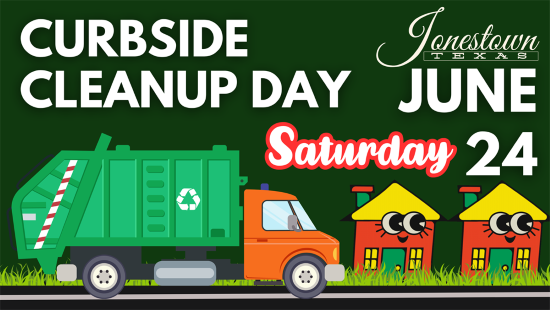 The City of Jonestown and Waste Connections will be holding its Annual Curbside Cleanup on Saturday, June 24, 2023
A maximum of five (5) cubic yards (5.5' x 5' x 5') of acceptable residential bulky items will be collected.
Resident's bulky items should be neatly placed at the curb by 7:00 a.m. on the scheduled pick-up.
This service is ONLY offered to current residential Waste Connections customers with in the city limits of Jonestown.
Residents will be responsible for proper disposal of anything put out after 7:00 a.m. or over the 5 cubic yard limit. Note: these guidelines are strictly enforced.
NO BULKY WASTE SHOULD BE PLACED FOR COLLECTION PRIOR TO SATURDAY, June 24th.
ACCEPTABLE ITEMS
Bulky items such as stoves, water tanks, furniture, washing machines, and dryers.
Air conditioners, freezers and refrigerators that are tagged verifying CFC's have been removed by a certified technician.
Bundled Brush securely tied together and properly prepared ( 4-foot lengths, 4-inch diameter or 40 pounds in weight) and placed at curbside.
Total acceptable volume of bulky items and/or bundles is five (5) cubic yards measured as 5' x 5' x 5'.
UNACCEPTABLE ITEMS
Gasoline, motor oil, paint, chemicals, and similar flammable liquids.
Medical waste (including needles and syringes), animals or human waste.
Tires, car batteries, and large pieces of metal (car fenders, engines, etc.)
Used oil filters or any hazardous or toxic waste
CONSTRUCTION MATERIAL AND DEMOLITION DEBRIS - i.e. concrete, rebar, dirt, sheet rock, rocks, excelsior, gypsum board, metal, rubber and wood products.
Planned Street Repairs
The City is planning for future repairs and maintenance of streets, to take place over the next several years.
Debris/Carcass Removal 1431
For debris and carcass removal in the roadway of 1431 within the city limits of Jonestown: contact Police dispatch at 512-974-0845 between the hours of 8:00 AM and 5:00 PM, Monday through Friday.
FYI - The police will move from the road then Transportation & Natural Resources or TXDOT picks them up.